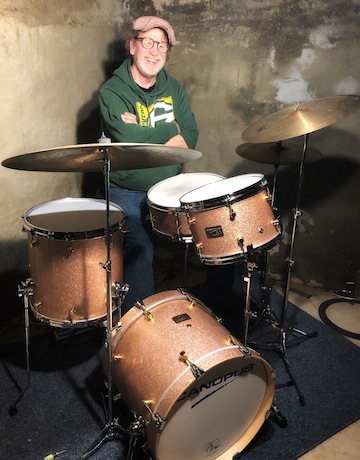 Message to CANOPUS
NV60-M1
I've owned nothing but Gretsch kits for 45 years. Fine drums with a great sound.
But there were problems with them. Each drum had a "sweet spot" where it sounded at its best. Other tunings gave disappointing results. You might get a kit where each drums' sweet-spot was discordant with the rest of the kit. So you had to work with those drums--change style of heads or even have the beveling "trued"--to get your sound out of them. And the snare drums were choked, often horrid sounding.
My first Gretsch kits were of the stop sign badge era. I soon learned from other drummers that the "round badge" kits from the 60s were the best. I played some kits from the 60s, and I must say I agreed. But I wrote off ever owning a kit of that era, as the bop configurations were not affordable.
So imagine my surprise when I discovered Canopus offered a line of drums (the NV60s) influenced by the round badge Gretsch. While researching Canopus, I read on their website the comments of drummer Eliot Zigmund, a drummer I admire. He claimed the NV60s were superior in sound to the old Gretsch. I contacted him with questions about Canopus. He invited me to call him and we conversed about the quality of build and the sound of the NV60s. I decided to take the leap and made the purchase.
Well, these are fantastic drums. The build quality is perfect--none of the quality control problems I found in previous purchases. But it's the sound of these new Canopus that knocks me out. I've never played a livelier sounding wood snare. No choking. The tom-toms, which are bevelled in the style of the vintage round badges, sound spectacular at any tuning. Super wide sweet spots. The 18 inch bass drum is the best I've ever heard. These Canopus nv60s have realized my dream of owning a perfect drum set.
I'm a lifelong jazz drummer and lead a band called No Room For Squares. I've been a professional drummer since 1970. So, I've been around and played loads of drum kits over my career.
And I'll say thiis: I have never played a better kit than Canopus NV60s. As far as I'm concerned, Canopus NV60s are THE drums. Put me under oath and I'll swear to it. Thanks for building such a fine instrument.
Products in use