PRODUCT DESCRIPTION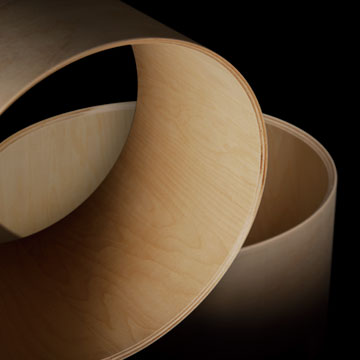 The direct, powerful sound for today's music
CANOPUS' presentation of our ideal sound in the R.F.M. series was enthusiastically supported by many drummers. However, historically speaking, a musical instrument has to change in order to adapt to new playing methods, new genres and trends of a new age. A musical instrument is always destined to face new demands, even if the manufacturer makes their masterpiece with confidence. CANOPUS understands this challenge. Hard rock and funk drummers want a fast, fundamental, projecting tone and this becamea key focus for our next development.
In order to achieve this sound, we decided to use shells without reinforcement. After trying many materials, our research concluded that birch worked best for rock. Extensive trial and error went into determining the ply and edge angle on the drum shells. The result is a drum with startling sound character that will reinvent the image of the birch shell. Our birch series has a weathered and rich sound, because of less dense birch and a slightly weaker molding pressure. All of these findings were discovered unexpectedly and worked out quite well for us.
Our birch series has a powerful, sustaining low end with a fast release and excellent sound projection. It is the embodiment of the sound we envisioned for the birch series. Our birch drums are now used by many drummers live, in the studio, or wherever this powerful tone is needed.