The Zelkova Snare Drum, which has a hollowed one piece drum shell, can be described as the purest form of the drum. Only one hollowed piece can be taken from a stump of precious 200 year old Zelkova wood, also called Akagi or "red wood." The sound that is produced from a single piece of wood has a unique and powerful attack. Each stroke produces a "block of sound" with a sharp edge and a thick low pitch, while maintaining the warmth of natural wood. The special nature of Zelkova is highly revered and sought after by top drummers around the world.
CANOPUS and the Zelkova Snare Drum Project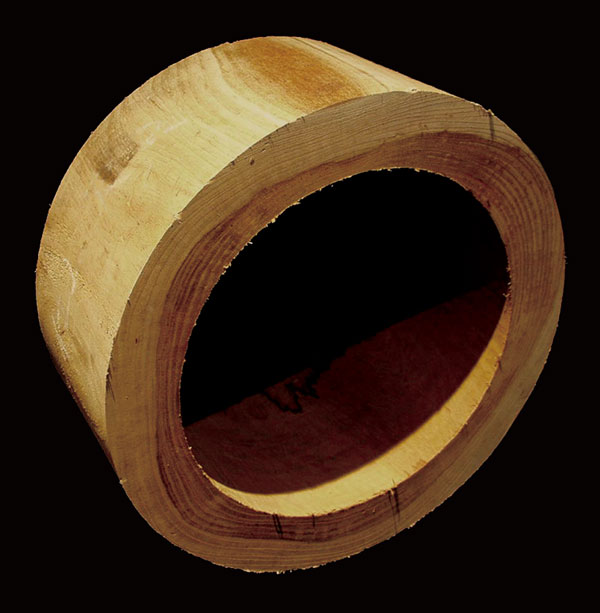 The Zelkova snare drum is CANOPUS' flagship model. In the primary development process we first experimented with traditional drum crafting theory. We cut the drum's edge at an angle of 45 degrees on both the inside and outside of the shell. Our first try was insufficient; the drum lacked the resonance and sensitivity we were looking for. We continued to experiment with several different edge angles, including 60 and 70 degrees. After some trial and error, we achieved an unprecedented edge shaping process. The end result is a hand crafted snare drum with maximum resonance and a delicate yet fat sound with sharp response. (See figure)
Our new edge shaping is very sharp. This overturns existing edge shaping theory. In order to pull the best sound out of the drum, the edge shaping must be determined by the material, thickness and structure of the shell. These findings have contributed to CANOPUS' overall development policy and shaped our attitude towards the drum crafting process, prompting us to constantly.
challenge the status quo, disregarding convention in favor of innovation.

Why are most snare drums made of plywood?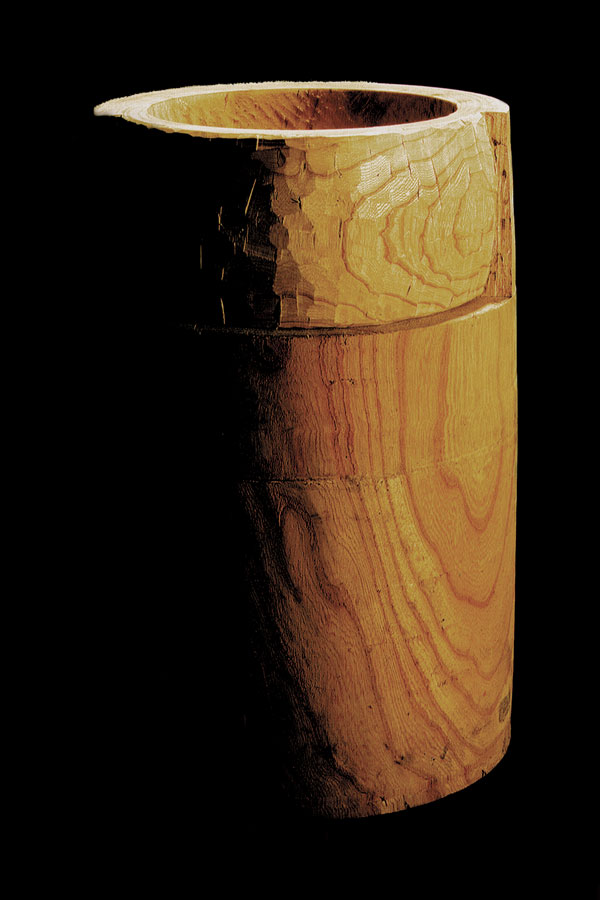 In order to pull out the best natural resonance. it is essential that the vibrating object must consist of a single element. In other words. a hollowed solid piece of wood is the ideal drum shell. When you compare the resonance of a piece of solid wood to a piece of plywood the difference in sound quality is obvious.
A one piece snare drums is very fragile due to its construction.
To cover up these shortcomings plywood shells are widely utilized. By plying several pieces of wood together with glue the drum shell is several more times durable than a one-piece shell. Consequently. natural resonance is impaired in exchange for durability.
Throughout the world, drum manufacturers have tried several approaches to combat the issue of a single element and durability.
Segmented shells are one approach and are closer to a one-piece shell. Another approach is to place a reinforcement hoop inside the bent piece of wood. One-piece wood is the most ideal in terms of pulling out the specific natural resonance. Because of technical problems such as shell alteration and cracking, which may occur several years after the drums production, only a few manufacturers are producing hollowed one-piece wood snare drums.








* Since its debut, precious 200-year old redwood has been used for Zelkova Snare Drums. This material has become scarce in recent years, thus procurable quantities are yearly decreasing.
Why Is A Hollowed One-Piece Snare Drum Subject To Crack?
The cylindrical shape of a one-piece snare drum is inherently fragile. Therefore, we have adapted a new method: we have found the answer in "vectors."
When the force f(n) is given vertically against a curved surface, it branches off into f1, f2, and f3. The force f1 and f2 run along straight forward, while f3 runs through the curved surface, thereby causing a crack. (See fig. 1)
However, our original global shaped snare drum shell will disperse the given vertical force along the global surface. (See fig. 2)
Hence, we have achieved the desired outcome: a hollowed one-piece snare drum that is much stronger and more durable than the existing cylindrical surface of the present one-piece snare drums available. We allow the wood to season naturally for 3years and then treat the shell in a specially designed wood drier to reduce the moisture content down to 9 percent. This drying procedure contributes to minimize the shrinkage and cracking of the drum shell.

A new revolving height adjustable tubular lug

Zelkova snare drum, the flagship model of Canopus which has enjoyed tremendous support since its introduction, has now unveiled a new revolving height adjustable tubular lug as a standard feature. The Zelkova snare drum features a hollowed one piece shell made from a stump of precious 200 years old Zelkova wood. The wood is seasoned for three years and moisture content is regulated down to 9 percent in a specially designed wood drier . However, this shell may still be affected by outside humidity, and may display a degree of contraction and expansion. The diameter of the shell increases when the humidity is high, and decreases when humidity is low.
Since commonly used lugs have a swivel feature to accomodate the tension bolts, it wouldn't matter if the drum shell expands or contracts. However, the Canopus tube lug has no swivel feature – it is a solid structure in order to enhance vibration cycle efficiency. Sometimes, when expansion and contraction occurs on the shell, perfect alignment of the tension bolts and lugs may prove difficult A new revolving height adjustable tubular lug has been designed in order to solve this problem. It has a mechanism which enables the user to adjust at the height of the lug by plus or minus 2mm by simply turning the center pole.
We do not put any grommets in the air hole of Zelkova snare drums for the following reasons:
1. We would prefer not to put any kind of hardware on the Zelkova, so we eliminate any extraneous metal or wood to preserve the resonance of the drum.
2. The wood can shrink, causing the grommet to rattle. The shell expands and contracts in response to temperature and moisture. Canopus takes every precaution to minimize drum shell shrinkage. Even though we dry the Zelkova snare drum shell until the moisture content is at 9% and the Zelkova snare drums shell is made without a seam (it's made from one, non-comprised piece of wood), there is a possibility that the shell could still shrink or expand due to the changes in air moisture.
3. Just look inside the air hole and you can appreciate the thickness of the single piece of wood.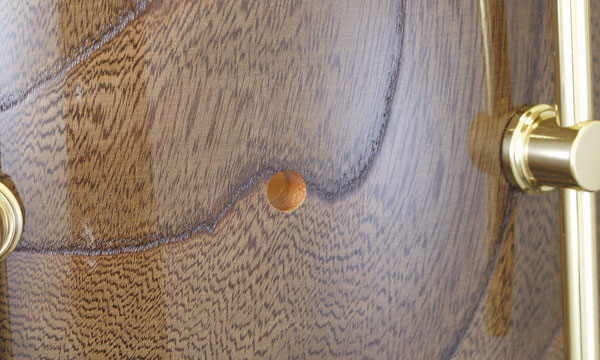 ---
Vintage Snare Wire [CPSL-ZL14NP]
brings out the potential of your snare drum and allows you to express more with pianissimo sound.
More Detail
Bolt Tight
Makes the Tension Rods Smoother. No More Loose Tension Rods. No More Unwanted Overtones. More Overall Tones from Drums.
More Detail
Diecast Hoop
Defined sound profile, Direct, concentrated projection
Shell
One-Piece Hollowed Zelkova 14mm
A nylon nut is built in the strainer switch CSA-20S.
Canopus' switch is so designed to prevent "loosening of snare wire" during the performance by creating moderate friction on the tension adjustment dial by the torque controlled nylon nut.
---
Stevie Wonder has his own Canopus drums!
Everyone at Canopus is really pleased and honored that Stevie visited the Canopus booth at NAMM 2016.
Prior to the show we had sent him, upon request, a Zelkova snare drum – which he really liked.
He came to the Canopus booth to check out our other products.
He played the YAIBA II Groove kit, with his favorite snare drum – the Zelkova. He loved the YAIBA sound, and decided he wanted it for himself.
Words can not explain how excited and honored we are that such a great musician has chosen to use Canopus' Yaiba drum kit and snare drum!