Darren Beckett
Longtime Canopus artist and Northern Irish native Darren Beckett began his career early when, as a teenager, he was awarded the prestigious Bass Ireland Award. Shortly thereafter, Beckett headed off to New York City to study jazz and claim New York as his residence for a period of 21 years. During this time Beckett earned a Masters in Jazz Performance and he also graced some of the most prestigious venues in the world as a performer including Carnegie Hall in New York City and Royal Albert Hall in London. Additionally, he has performed/recorded on over 50 albums with such well known artists as Lee Konitz, James Williams, Brandon Flowers, Madeleine Peyroux, Kenny Wheeler, and, George Colligan. Beckett has also toured with Lauryn Hill (The Fugees), English soul singer James Hunter, and he regularly appears with Brandon Flowers (formerly of The Killers). In fact, Beckett is credited as a co-writer on Flowers' 2015 smash hit Can't Deny My Love. Beckett has also worked with notable producers like Canada's Daniel Lanois (Bob Dylan, Neil Young, and U2), three-time Grammy Winner Stuart Price (Madonna, The Killers) Mark Plati (David Bowie, Fleetwood Mac), and Larry Klein (Joni Mitchell).
Beckett is also a member of New York Indie Rock band Ambulance LTD which released their 2004 debut LP on TVT/Island to global acclaim. During 2019 and up and through early 2020 Beckett was busy touring with Beth Orten, Mercury Rev, Adrian Utley (Portishead), Sinead O'Conner, Amen Dunes, and, LA singer Bedouine.
Recently, Beckett returned moved to the U.K. where he has been active on the U.K. and European jazz scene while performing with such marque artists as Jason Rebello, Gilad Atzmon, Jim Mullen, Claire Martin, Norma Winstone, Alan Barnes, and, Damon Brown. Between live performances Beckett is also active in the Dublin and London studio scene as well as performing on film and television soundtracks.
Beckett also regularly appears as a clinician and he has taught masterclasses in Belgium, Ireland, the U.K., the United States, Portugal, France, and, Spain. He also acts as a lecturer at BIMM Institute (British And Irish Modern Music) which has locations in Brighton, Bristol, Dublin, Birmingham, Manchester, Berlin, Hamburg, and, London.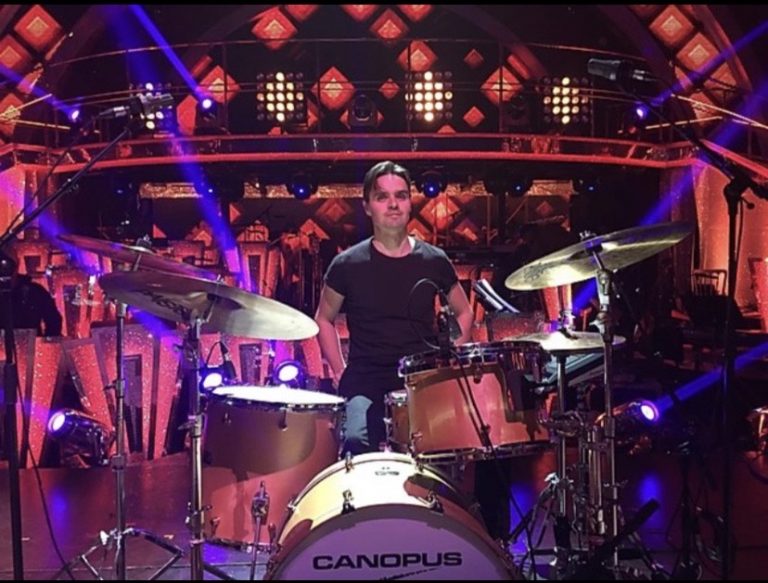 Message to CANOPUS
I first played Canopus drums at 'Smalls' jazz club in NYC with Joshua Redman, they had a warmth and depth of a truly vintage sound. It was like I was born to play these drums!! I used the R.F.M. on Brandon Flowers solo record, they were amazing in the studio, easy to mic and they really sang!! Touring with Brandon the Zelkova snare will reach the very back of the arena, and I need everyone to feel that backbeat! I believe in this company, they have a love for the instrument that they craft into every drum, and you will feel it!! Truly unique.
VIDEO