Alessandro Minetto
Jazz Drummer Born in Alessandria on june the 23th 1969 begins his music studies at the age of 15 attending the drum classes of acknowledged italian teachers like: Alberto Bucci, Giorgio Gandino, Marco Volpe, Bruno Astesana and Maurizio Planker. Starts his professional career at the age of 22 performing in Italy and foreign countries.
He attends also clinics of drummers: Manhù Roche, Francesco Sotgiu, Enzo Zirilli, Roberto Gatto, Ettore Fioravanti, Arvin Scott, Marcello Pellitteri, Bob Moses, Max Roach, Roy Haynes, and takes some special drum lessons with drummers Tony Arco and Bruce Becker.
From '94 tilt nowadays, He performed live in many foreign countries such as Holland, Brasil, Viet Nam,  France, England, Germany, Austria, Turkey, Swizerland, Etiopia, Japan and in all Italy.
He plyed in several festival such as:  London Jazz Festival, Jvc Festival Torino, Villa Celimontana, Ha-Noi European Jazz Festival 2002 (Viet Nam), Iseo e Clusone, Aosta , Eurojazzfestival di Ivrea, Brescia, Valtellina Jazz, Udin&Jazz, Terninjazzfest, Umbria Jazz Winter, to name a few,  and in many important european theaters and clubs like Ronnie Scott's London (with the great Steve Grossman),Duc Des Lombardes Paris, Blue Note Milano, Casa Del jazz Roma, Bimhuis Amsterdam and the Blue Note in Tokyo.
As a jazz drummer he performed with:
Lee Konitz, Ronnie Matheus, Bud Shank, Benny Golson, Steve Grossman, Michelle Hendrix, Bruce Forman, Larry Shneider, Peter King, Jesse Davis, Donald Braden, Dena De Rose, Jimmy Cobb, Scott Hamilton, Kelvin Sholar, Monk Liberation Front, Jonathan Gee, Steve Rose, Tony Kofee, Ed Jones, Orphy Robinson, Ed Howard, Ben Hazilton, Mikka Millari, Antonio Ciacca, Dusko Goicovic, Renato Sellani, Fabrizio Bosso, Francesco Cafiso, Gianluca Petrella, Piero Odorici, Giampaolo Casati, Marco Tamburini, Satefano Cantini, Alessio Menconi, Torino Jazz Orchestra, Dado Moroni, Gerard Klein, Barend Middelhoff, Rachel Gould, Pietro Ciancaglini, Paolo Benedettini, Fulvio Albano, Bebo Ferra, Andrea Dulbecco, Francesca Sortino, Robert Bonisolo, Franco cerri, Stijepko "Steve" Gut, Damon Brown, Phil Guy, Kay Foster Jackson, Gilad Atzmon, Michael Rosen, Garrison Fewell, Walter Weiskopf, Gaetano Partipilo, Fabio Morgera,  Alberto Marsico, Andy Gravish, Kail Gregory, Pierre Christophe, Maurizio Giammarco, Tom Kirkpatrick, Gianni Basso, Emanuele Cisi, Antonio Faraò, Furio Di Castri, Ares Tavolazzi, Paolino dalla Porta,  Gianni Coscia, Pietro tonolo, Danilo Gallo, Rosario Bonaccorso, Marco Micheli, Paolo Birro, Renato Chicco, Stefano Battaglia, Jimmy Villotti, Simona Premazzi, Daniele Scannapieco, Gaetano Partipilo, Guido Di Leone, Danilo Memoli, Andrea Pozza, Claudio Fasoli, Aldo Zunino, Roberto Cecchetto, Marco Vaggi, Maurizo Nunes Caldura, Bruno Marini, Luigi Bonafede, Riccardo Zegna, Carlo Atti, Maria Pia De Vito, Luigi Tessarollo, Aldo Mella, Riccardo Ruggieri, Paolo Porta, Alessandro Maiorino, Stefano Calcagno, Luca Begonia, Roberto Rossi, Claudio Chiara, Fulvio Chiara, Lorenzo Petrocca, Alfredo Ponissi, Giacomo Aula, Melissa Stott, Francesco Nastro, Antonio Zambrini, Nicola Muresu, Guido Canavese, Aldo Rindone, Andrea Allione, Giorgio Licalzi,  Massimo Cartello, Marco Pezzutti, Marco Tardito, Roberto Regis and many others
Recordings as sideman:
-Giorgio Licalzi, Giorgio Licalzi (Philology) 1994.
-La nuit americaine featuring Franco D'Andrea,Giorgio Licalzi (Philology) 1996
-Santa Lucia, Giorgio Licalzi (Polo Sud) 1997
-Music Library Sigle vol .2, Giorgio Licalzi & Friends (Fonit Cetra) cdfc 4104
-Serenata celeste, Lorenzo Minguzzi (Caligola) 1997
-Ridatemi Amapola, Gipo Farassino (Sony Music) 1998
-Eyes and stripes featuring Fabrizio Bosso, Luigi Martinale (DDQ) 1999
-At Home, Fulvio Chiara (Splash 2000)
-Playing The Giants feat. Tom Kirkpatrick (Modern Vintage) 2000
-Zoe, Guido Canavese trio (Jazzmobile Records) 2001
-Urka Feat. F.Bosso, Luigi Martinale (DDQ) 2002
-Un gatto attraversa la strada, Tartamella-Leotta-Minetto (Note Sparse) 2002
-Kiss Me, Francesca Sortino (SUGAR) 2004
-Cream of mandarin, Gee-Gallo-Minetto (Artesuono)2004
-Somethin' Special, Feat Steve Gut and Carlo Atti, (Videoradio) 2004
– "We Remember You", the Good Life quartet, 2004 (Jazzmobile)
– "The Goodlife Sessions", the Good Life quartet, 2005 (Jazzmobile)
– Black on White, Riccardo Arrighini (philology), 2005
-Starry Eyed Again, Michela Lombardi (Philology) 2005
-The Long Journay,Amsterdam Roma, (Munich Records) 2005
-"Nero su Bianco" Riccardo Arrighini- Paolo Benedettini-Alessandro Minetto, (Philology 2006)
-Walkin' Ahead, Guido di Leone, (YVP music) 2006
-Why Now, Melissa Stott, (Feetfirst Records) 2005
-The Picture, Melissa Stott  (FeetFirst Records, 2007)
-Blue Night, Guido Di Leone feat. Barend Middelhoff, (Philology) 2007
-Peggy, Paola Arnesano feat. Barend Middelhoff, (Philology) 2008
-Abbagli, Francesco Negro, (Philology) 2008
-Sax Line, Guido Di Leone Sextet, (four) 2009
-Corner Shop, Alessandro Chiapetta Quartet, (philology) 2010. nb: gruppo vincitore del contest incroci sonori di Moncalieri Jazz
– Sweet Soul Mood, Pepe Ragonese organ Trio & Friends, (aBeat) 2014
-Sketches of Miles, Alessio Menconi, (aBeat) 2014
Recordings as co-leader:
-Four Now, Sudduth-Marsico-Chiappetta-Minetto, (Philology) 2010
-Italian Melodies in Jazz, Cigalini-Tessarollo-Maiorino-Minetto (LUTE) 2010
-Spiritual, Bosso- Marsico- Minetto. (Us/Organic Music) 2011.
-Purple, Fabrizio Bosso Spiritual Trio, (Universal/ Verve) 2014
Experience as teacher:
-From 1992 to 2000 he gave clinics and music labs about Jazz with the band of the acknowledged italian saxophone player Alfredo Ponissi, in several secondary schools in the Milano area
– He has been drum theater at Scuola di Musica della Val Pellice from 1997 to 1999
– He worked as assistant an translator for:
Drummer Stephen Keogh at Appennino Music Festival Clinics in 2002 and 2003 year in which he had a 1st level combo class.
Drummer Sangoma Everett at Due Laghi Jazz festival di Avigliana Clinics in 2002.
Drummer and Bercklee School's cheef of percussion department , Ron Savage, at le Umbria Jazz Clinics in 2005 and 2006.
– He gave jazz drum clinics at "Il Pentagramma" school in Bari and also in Dublin during the "jazz week" organized by the Trinity College.
– From 2010/11, he is resident drum teacher at Musical Education courses of Torino City Council.
– From 2011/2012 he is teacher at Centro Didattico Musicale Italiano in Moncalieri.
-Lately he gave several drum lessons to senior professionals italian drummers.
He elaborate many ecsercises with the purpose of analyze the jazz phrasing and understand and the application of techniques of many drum methods that he uses for teaching. Through that simple approach it is possible to delineate elements of the styles of many historical jazz drummers and revise they're fundamental concepts to create a personal style.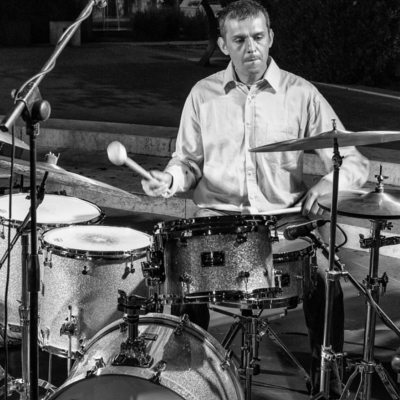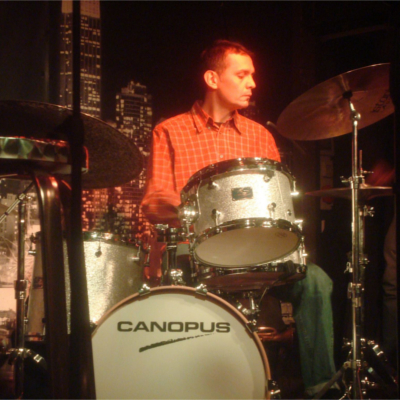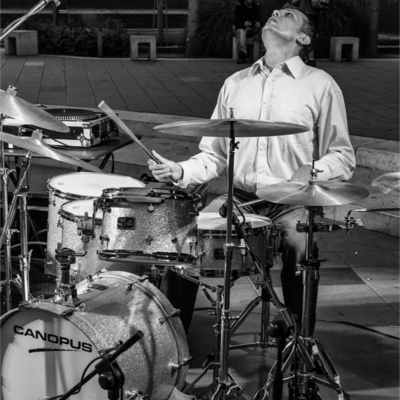 Message to CANOPUS
Since I played the Canopus kit at Blue Note Tokyo I've been captured by the warm sound and versatility of these drums. My band mates loved that kit too, so I decided to get one for myself and it was the best choice I ever made. I play an R.F.M 12" tom, 14" and 16" floor toms, 20" Bass drum and a 14"x5,5" ten ply maple snare drum all in silver sparkle finish. It is so easy to tune and responds great both low pitch or high pitch, this alloweds me to make it fit to every kind of music I play, Jazz, Rock, Latin Jazz…. it sounds simply great and it looks so good!
VIDEO