Stevie Wonder. We don't think we have to explain who he is.
He is the world leading musician, who has had more than 30 songs in the US top selling chart and has won the Grammy awards in 22 categories.
This is also not necessary to mention that he is not only a singer, song writer and pianist, but also he makes the one and only "Groove" on the drums.
Since Stevie met Canopus at NAMM 2015, he has been using the Canopus flagship snare drum, Zelkova.
He returned to Canopus's booth at NAMM 2016 and played on the display drum kits.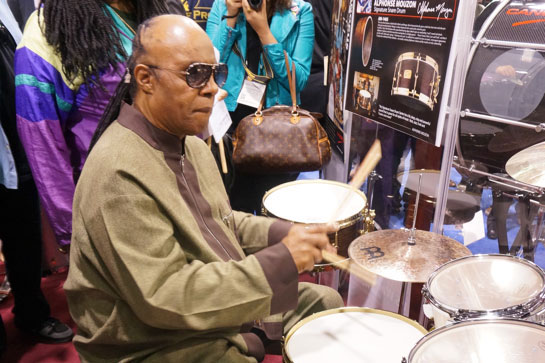 He has played Canopus high end drum kits like Neo Vintage M1 and M2 series, Ash Series. He fell in love with the YAIBA Ⅱ Groove kit (Birch) and decided to have the drum kit for his own!
Canopus asked him if he likes Canopus drums and he nodded and said, "Yes!".
He has the "Ear" that he has been making great music. He didn't choose Canopus high end models, but chose the middle range model, the Yaiba Ⅱ Groove kit.
That means a lot to Canopus and he believes that the drum kit fits his needs and demands for his music.
This proves that the Yaiba Ⅱ Groove kit is the middle range drum kit, but it has the hight end sound.
That is the Canopus drums.