The classic fiber sound returns!
With these unique drums Canopus has brought back the drum sound that was immensely popular from the mid 1960's through to their peak in the 1980's. Since that time fiber drums have become increasingly difficult to find.
Fiber material has particularly unique sonic qualities when compared to wood or metal shells. Canopus' process is to layer "craft paper" with phenol resin and apply a heat treatment (known as annealing) to the shell. This allows us to considerably harden the surface layers of the shell and extract the optimal sound. The combination of ideal shell hardness and thickness, combined with the perfect bearing edge, has allowed us to recreate the vintage fiber sound – Neo Vintage M3.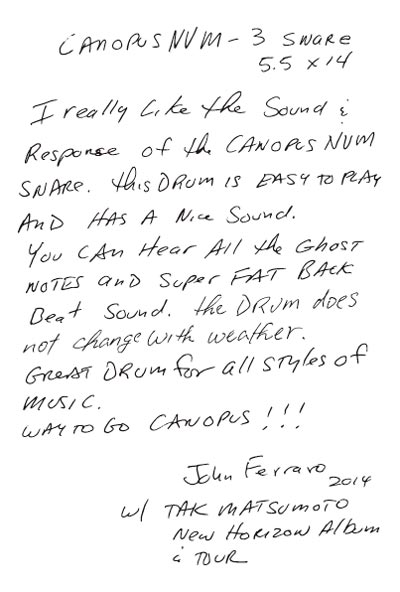 "I really like the sound and responce of the CANOPUS NV-M3 snare. This drum is easy to play and has a nice sound. You can hear all the ghost notes and super fat back beat sound. The drum does not change with weather. Great drum for all styles of music. Way to go CANOPUS !"
John Ferraro
w/ Tak Matsumoto New Horizon Album's Tour

---
Vintage Snare Wire [CPSL-14NP]
brings out the potential of your snare drum and allows you to express more with pianissimo sound.
More Detail
Bolt Tight
Makes the Tension Rods Smoother. No More Loose Tension Rods. No More Unwanted Overtones. More Overall Tones from Drums.
More Detail
Power Hoop (2.3mm Steel Hoop)
Power Hoops have a low 17.5mm height. They produce an uncompressed sound and a full, broad rim shot. The edge height allows ease of playability and may also reduce missed rim shots.
Shell
Phenol Fiber resin
A nylon nut is built in the strainer switch CSA-20S.
Canopus' switch is so designed to prevent "loosening of snare wire" during the performance by creating moderate friction on the tension adjustment dial by the torque controlled nylon nut.