Color Option
Color Variation Chart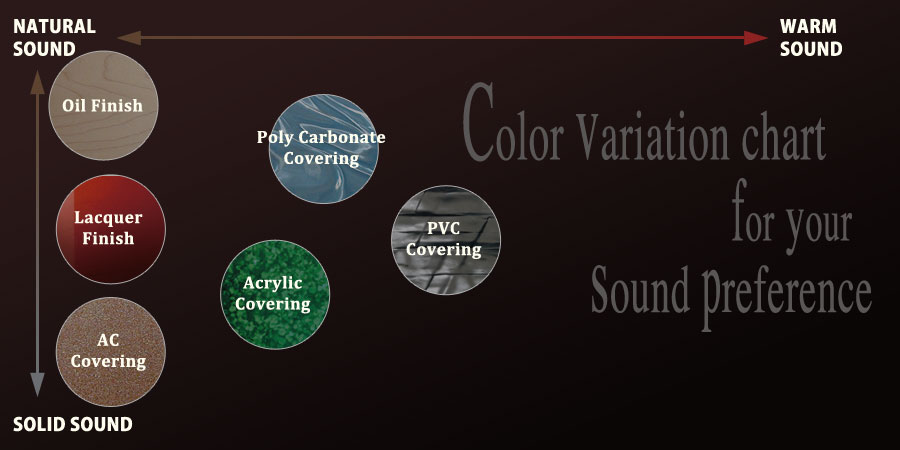 Color Variation Chart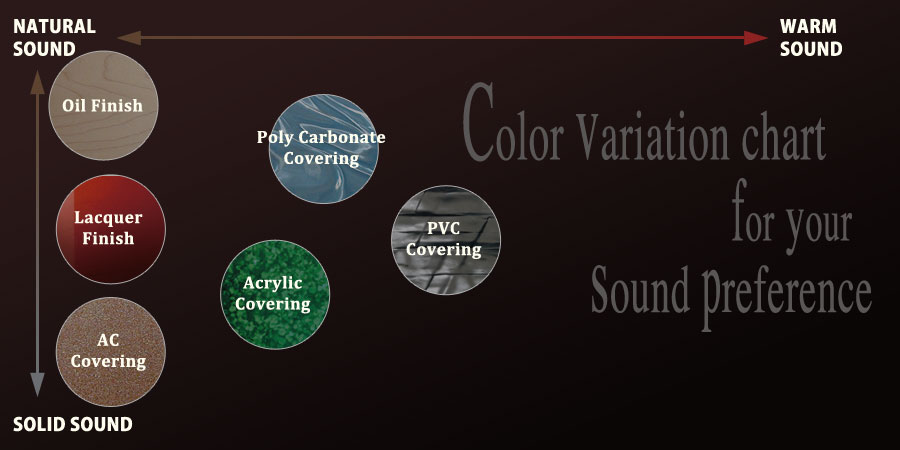 Different Drum Sounds Depending on Finish
People may think that a lacquer finish is for high end products and its sound will be good, but we have doubt about this idea based on our research over the years. Particularly in the thin shells, our original theory was that by covering the shell, we can produce a different sound characteristic while concurrently reinforcing the shells. A similar example can be found in guitars with different wood combinations being used to create an original sound.
We believe that the finish, such as a covering or lacquer, greatly influences the final drum sound. At present, CANOPUS offers a wrap, oil and lacquer finish.
Each has a distinctive sound. The color chart on this page indicates the sound character of each finish, as well as the color. Please note the difference in the sound depending on the finish.
Nitrocellulose for Our Lacquer Finish
The generally accepted lacquer materials are polyester, polyurethane, acrylic, nitrocellulose etc. We decided to use nitrocellulose lacquer for our drums because it allows us to have a wider tuning range from low to high and pull out the full potential of the shell. When compared to the other materials, it takes a longer time to dry and extra attention to create the mirror finish. We believe that nitrocellulose is the only material that can pull out the natural resonance of the shell. Many of the vintage guitar makers use this material as well. Compared to other lacquer materials, it is more likely to have a grain depression over the years and can cause cracks on the surface. Still, with this, the lacquer material and the shell will harmonize and the user can enjoy the process of the growing resonance over the years. We dared to choose nitrocellulose lacquer because we believe that our musical instrument is not a mere product to sell, but a work of art.
In the process of lacquer painting, there are three steps: sealing, second coating and final coating. For the sealing process, urethane "sanding sealer" is most common for quick drying and easier handling. But we chose to use nitrocellulose for the sealing step to get the best sound. The thinner lacquer is the better sound, but we use an even thicker layer of painting for our recent drums in response to requests by most users and dealers.
Different Shell Specifications for Different Finish
In order to maximize the sound character, we need to have a different shell construction and edge shaping depending on the different finishes. Is one sheet of covering matching the one ply of shell? Is one layer of lacquer matching to 1 ply of shell? How about oil? CANOPUS examines these sounds closely, and our concerns about shell design and finish will continue.
※ Lacquer Finish – either "Gloss" finish or "Non-gloss" finish in each color are available for your choice.
※ Shrinkage, peeling and crack on PVC Covering may occur as the years pass.