Tupac Mantilla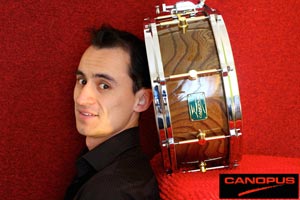 Nationality:COLOMBIA
nternationally acclaimed Grammy® Nominee Percussionist/Drummer Tupac Mantilla is nowadays one of the most versatile and creative upcoming artists of his generation. His work as a Performer, Educator, Producer and Clinician has been highly recognized worldwide and includes appearances in major Festivals, Institutions and Venues such as Carnegie Hall, Lincoln Center, Harvard University, Stanford University, The New England Conservatory, Kennedy Center, Berklee College of Music, London's Barbican, Tanglewood, The Montreal, North Sea, Perugia, Montreux, Gent, Nice, Newport Jazz Festivals among many others; as well as several percussion-oriented workshops for private and public institutions and prestigious multi-national companies around the world.
An accomplished percussionist with a Master of Music Honors Degree from the New England Conservatory (Boston, USA) and the 1st. Prize recipient of the 2002 Bogota's Philharmonic Orchestra's Classical Soloist Competition, Mr. Mantilla has collaborated and performed with artists such as Bobby McFerrin, Ustad Zakir Hussain, Danilo Perez, Bill Cosby, Kenny Werner, John Patitucci, Reinhard Flatiscler, Savion Glover, Tisziji Muñoz, Bob Moses, Steve Smith, John Medeski, Michael Cain, Cecil McBee, Jamey Haddad, Anders Koppel, Deepak Ram, Medeski Martin & Wood, Lisa Fischer, Selene Muñoz, Ulita Knaus, Sofia Rei, Tia Fuller, Julian Lage and the Bogota's Philharmonic Orchestra, among many others.
Mr. Mantilla is the Director of the Children's Program for the Panama Jazz Festival and the Founder and Artistic Director of Colombia's top experimental Percussion Group TEKEYÉ® and the Global Percussion Network PERCUACTION.