Kenny James
A Beautiful Curse / Freelance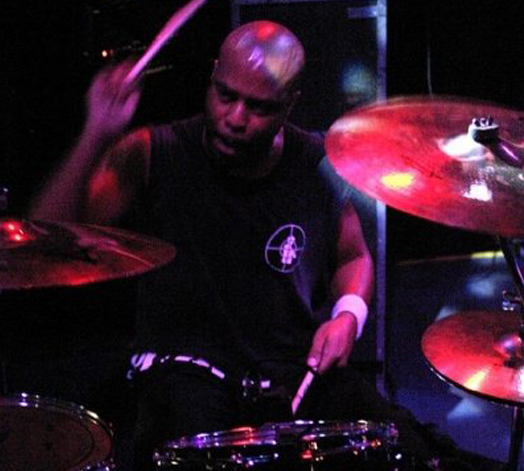 It's a well known premise: the music game has changed in the past few years. But what hasn't changed is a musician's love for the art nor for their instrument(s), something exemplified by Kenny James.
For as long as he can remember, Kenny has been enamored by all styles of music as a fan. By the age of 5, this young fan became a music contributor. His parents were baffled by his incessant need to drum on his bedroom mattress while listening to The Jackson 5, Isaac Hayes, Rare Earth, Sly & The Family Stone, The Rolling Stones, The Temptations, and many more.
As Kenny grew, so did his love for music and his musical abilities, even though he didn't own his own drum set until the end of his 8th grade year in school, instead, pushed to play French Horn starting in the 3rd grade (where he received his only formal music training). In High School, while continuing to play French Horn, he plunged headfirst into drumming and even started learning piano and guitar as well. A natural singer, the multi-instrumentalist in his mind had the tools he needed to move forward with his love, but now, as an actual musician.
From his unprecedented three consecutive years as a drum major in high school (including winning the state's first ever "best drum major" caption award at the statewide high school marching band competition), through obtaining his degree from the University of Denver, to his four year commitment in the U.S. Air Force as an Air Traffic Controller, and even during his current stint with the U.S. Army first as a Broadcaster and now as an audio engineer instructor, he continues to perform and record, write, mix, and produce an enormous amount of varying genres of music. He has recorded and toured internationally with a number of artists such as George Clinton & The P-Funk All Stars, 24-7 Spyz, Celldweller, The Samples, The Missionary Position, Deprogrammed Productions, Newcomer's Home, and so many more. A few of the mentioned artists he even contributed songwriting as well to include Nina Storey, Drop Six, United Dope Front, and more. His production credits range from Suffer Structure, Stranger Neighbor, Apostle, his former solo project The Witching Hour in which he was the sole songwriter, and his current solo venture A BEAUTIFUL CURSE. He has made a number of appearances in worldwide publications including Modern Drummer magazine and was even a cover feature for Icon Entertainment Magazine.
As he moves forward, so does his focus with his love for music. He is working hard with A BEAUTIFUL CURSE, contributed drum tracking for rockers Ghosts of Evolution (as well as mixing and mastering), Lion Drome, and singer/songwriter project Seaside Messiah, and demo production with Elizabeth Rose. All the while, his love and his drive continue to grow. As far as Kenny is concerned, no matter the way "the game" is played, time will never change his ever-growing love. Click on the "endorsement" link to the left to see the companies he is endorsed by (many, many thanks to Evans, Grace Designs, Beato Bags, 64 Audio, Pork Pie Percussion, Porter & Davies, Vic Firth, Canopus, and Zildjian).
VIDEO