Juergen Peiffer
MANTECA / Wise Guys / Freelance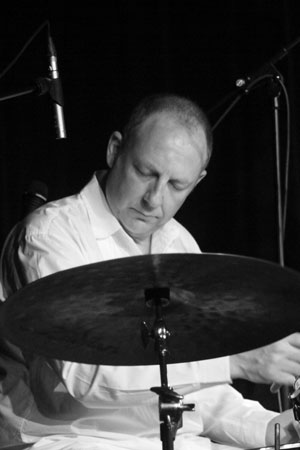 Nationality: Germany
Juergen Peiffer is a very talented drummer, percussionist, composer, and arranger born in 1963 in Troisdorf/Germany . He started drumming at the age of nine. In 1983 he graduated from Musikhochschule Koeln (Cologne College of Music) passing a M.A. degree as a teacher of music. In 1985 he also passed a diploma in orchestral music (Musikhochschule Koeln) all while studying at Berklee College of Music in Boston, U.S.A. and in 1993 at the Drummers Collective in New York.
He played with WDR Big Band, Rundfunkorchester WDR, Big Band des Hessischen Rundfunk, The Big Band Convention – guest soloists like Jiggs Whigham, Al Porcino, Conte Candoli, Dick Oats – and numerous other renowned German Big Bands.
Juergen was obviously influenced by Sperie Karas, Peter Giger, Wolfgang Ekhold, Clayton Cameron, Adam Nussbaum, John Riley, Ricky Sebastian, Bobby Sanabria, Duduka da Fonseca and Kim Plainfield all of whom he studied with.
Juergen has toured and performed with renowned artists such as Udo Juergens and Orchestra Pepe Lienhard, Paul Kuhn Big Band and Trio, Jennifer Rush, Johnny Logan, Roland Kaiser, Peter Kraus, Caterina Valente, Vicky Leandros Silvio Francesco, Barbara Dennerlein, Axel Fischbacher, Peter Fessler and countless others, but to name a few.
Among his other notable appearances, Juergen recorded the Album "Zwei Welten" (two worlds) by the German "Echo" Award Winner Wise Guys, a successful German Vocal Ensemble – whom he also toured with in 2012/13.
Juergen has played on many albums, including Jazz-Singer Norbert Gottschalk – Two Sessions.
Besides these performances, Juergen has worked for various theater productions such as Cats, Saturday Night Fever, Dirty Dancing, Cabaret, Hair, Starlight Express, West Side Story.
Juergen's own band, MANTECA, started in 2004 and playes Latin, Jazz, Brazilian Axé and Folklore touring in Germany and Europe. MANTECA's first CD entitled "Meu Brasil" was released in 2015.
He also performed on the spectacular Event "Day of Song" with the Bochum Philarmonic Orchestra and Singer Bobby Mc Ferrin, a concert with a viewing audience of 55.000, that was televised countrywide.
Besides playing the drums, Juergen continues to devote his talents and time to the publication and distribution of drum books and has been the founder of "ton ab" Musik Verlag ("ton ab" Music Editions). He also teaches drumset at IMM (Institute for Music and Media) Duesseldorf, Germany.