Juan Baratto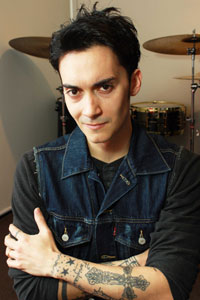 Nationality : Colombian
Juan Baratto is a professional drummer who lives and breathes drums…15 years ago, he committed to the instrument that has driven him to all around the world. Undoubtedly, Latin music has permeate through his drumming DNA…while later on drummers like John Bonham, Dave Grohl, Chad Smith, Alex González, Steve Jordan and Ahmir "Questlove" Thompson gave Juan a whole world of ideas and a basic, groovy but powerful approach to drumming.
Juan has played with some of the most important bands and artists in his native Colombia: Don Tetto, Frankie Jazz, Claudia de Colombia and Sexto Sentido….He even won the Subterranica Award for "Best Drummer" in 2009…but outside of his country, he has also laid his signature heavy backbeat on different projects and recordings while living in France, and now settled in Australia he is currently the drummer for the Melbourne based Rock Band Holliava.
But playing the drums isn't everything…since the beginning of 2012, Juan launched a website called ElDrumBlog.com. The project focuses on giving information, Vlogs, reviews, advice and material for drummers in a language in which sometimes it's really difficult to find truthful and quality information or even worse, you'll find it in a old boring style… Being from Colombia, Juan writes all this content thinking specially in all the Spanish-speaking drummers around the world, in a way that has proven to be quite appealing as well entertaining…Nowadays ElDrumBlog.com is considered one of the biggest and most important drum-related websites in the world.
Message to CANOPUS
I'm all about mixing the old with the new…Classic sounds with the edgier newer ones…Canopus drums speak the same language as me…A sound that mixes the best of the vintage sounds with the projection and versatility you need for today's music. That's why I'm in love with the Neo Vintage 60 M2's…you can't ask for more!! Made by some of the best drum makers in the world with painstaking attention to detail… it's just an honour being part of the "Familia Canopus"…Thanks for making these beautiful drums available for the drummers!