Brent Follis
ブレント・フォリス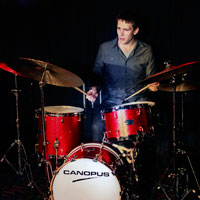 Raised on a farm in Southern Illinois, the first thing Brent Follis can remember is picking up a pair of wooden spoons, and tapping out rhythms on some old popcorn tins.
Since then, his journey in music has led him cross country and around the globe, in search of inspiration and culture.
After receiving his degree in Advertising and music performance from Southern Illinois University, he transplanted himself in the fertile soil of the Pacific Northwest. It was in Portland, Oregon where he befriended Ghanaian master drummer Israel Annoh, who continued to shape Brent's style and voice on the instrument. After receiving a call from a friend and musical writing partner on the East Coast, and needing to fulfill his yearning for diversity, culture, and thin crust pizza, he moved to New York City.
After a decade of performing, traveling, and soaking in the vibe of the Big Apple, he made the sojourn back to the Rose City, where he maintains a busy recording and performance schedule, and can be found backing up many talented singer-songwriters, jazz and pop artists.
He believes his role on the drum set is to provide a great feel, uncover the nuances of each song, and create a unique and supportive drum part.
Message to CANOPUS
Living in NYC requires you to constantly play in many different musical situations, so it's important to have drums that are versatile and sound great in any setting. If Canopus drums are tuned up high for a jazz setting, or tuned down low for a Pop, or singer-songwriter session, they always sound and feel amazing! They have a certain vintage quality and warmth that I love, but also work perfectly in a modern setting. These are sexy drums that really sing! I'm proud to be a part of the Canopus family page up