Vlade Guigni
Vlade Guigni Trio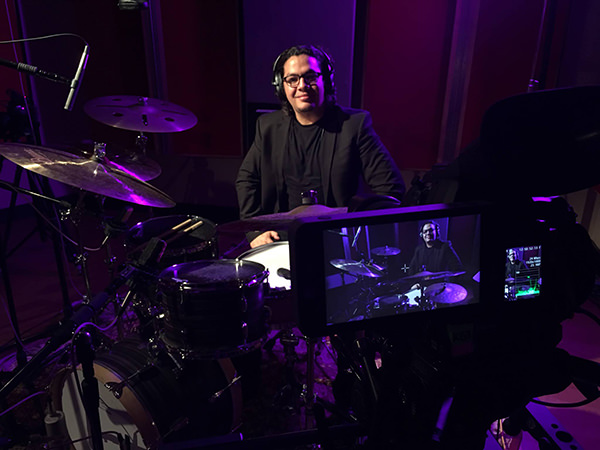 Vlade Guigni is a Drummer, Producer/Engineer and Educator originally from The Dominican Republic based in Boston MA, USA. He has worked with an extensive list of artists from the Jazz, Gospel, Fusion an Studio music scene from his native country, The Dominican Republic and the international scene. The list includes Danilo Montero, Lucia Parker, Lilly Goodman, Johan Paulino, Marcos Yaroide, Isabelle Valdez, Egleyda Belliard, Oscar Micheli, Josean Jacobo, Eliacim, Tribu Del Sol, Grupo Lega2, Minns Quintet, David Vasquez, Gerald Clayton, David Gilmore, Phil Wilson, Darcy James Argue, Elisa Smith, Simona Minns, Jireh Calo, Shea Rose, Marlon Saunders, Enrique Gonzalez Müller, Bill Banfield, Totó La Momposina, just to name a few.
In 2012 Vlade was awarded with a Scholarship for the prestigious Berklee College of Music after auditioned for the "Michel Camilo Endowed Scholarship Fund". Since then he has studied with world renowned musicians such as Neal Smiht, Terri Lyne Carrington, Ralph Peterson, John Hazilla, Henrique De Almeida, Ian Froman, Larry Finn, Billy Kilson, Leo Blanco, Ed Tomassi, Tia Fuller, Greg Hopkins. Prince Charles Alexander, Enrique Gonzalez Muller, John Whynot, Leanne Ungar, Mark Wessel and many others.
In 2015 Vlade was accepted on the world renowned Berklee Global Jazz Institute, an elite organization that is composed by top Jazz Players in the world. The Global Jazz consists in a program for the social change with the music. We travel the world and play in top Jazz festivals like the Panama Jazz Festival, Monterrey Jazz Festival, Toronto Jazz Festival, Dominican Republic Jazz Festival, along with many other places. The Global Jazz not only plays at these festivals but also teaches workshops and clinics. The Faculty Includes Danilo Perez, Terri Lyne Carrington, George Garzone, John Patitucci, Alan Pascua, Ben Street, Brian Blade, Joe Lovano and many other guest artists.
Also in 2015 he played Drums on the Berklee Online/Coursera course called: "Producción Musical y su efecto en la Composición" leaded by the Latin Grammy Award Winner Producer/Engineer and Berklee Faculty Enrique Gonzalez Müller. This course is about is the first one completely taught in spanish and is about music production. The course is available completely free and worldwide and has reached thousands of students all over the world in less than a year.
Currently, Vlade keeps himself busy playing with artists from all different styles in the Boston area. He Endorses Canopus Drums, Meinl Cymbals, Vic Firth Drumsticks and Ahead Armor Cases.
VIDEO