Kit Lau
Kitty Trouble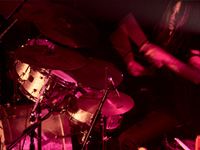 Nationality:China (Hong Kong)
Kit Lau ( Kitty Trouble) been involved in Hong Kong Chochukmo since 2008. He have been considered as one of the key member in His band to take part in their music compositions. The main concept of Chochukmo is basically "mix and match" he, alongside with his bandmates, all believe that with the creativity and ambition to push music composition to the limit, and by mixing and matching different styles and genres, they'd be able to create their unique sound.
With such a thought of pushing their creativity, they've released their first album "The King Lost His Pink", in which they tried to mix different styles together in a 3 to 4 minute song, and have been receiving positive reviews by international media such as TIME and CNN. After the release of their first album, they're more sure of their music direction, as well as the direction of further development of the band.
Chochukmo has been considered as one of the best band in Hong Kong, which they've been invited to be the opening act for Wangwen (China), te' (Japan), Wax Tailor (France) and The Teenagers (France) etc. Chochukmo has been the frequent guest of huge music showcases in Hong Kong, such as Le French May Musical Showdown, which has attracted more than 2,000 attending audience, and Clockenflap Music Festival, with international lineup including Los Capasinos, Hot Chips, Blood Red Shoes, and Pet Conspiracy, which has attracted over 2,000 audience in the 2-day festival.
Except local showcases, Chochukmo has been touring to Manila, Philippines and Kuala Lumpur, Malaysia, receiving positive reviews from the local media. In August 2010, they've launched a China tour which they visited 9 cities, namely Beijing, Wuhan and Shanghai.
Chochukmo has been selected as the "Top 20 Hong Kong Musicians" by Time Out Hong Kong in 2008, has been described as "the most charismatic band to have emerged in southern China in recent years" by TIME Magazine, and has been included in "The Hong Kong Hot List: 20 people to watch" by CNNGo in 2009. Their debut album "The King Lost His Pink" has been as well reviewed by TIME Magazine in 2010.
Message to CANOPUS
I think a musician needs the right kit to match his own personality and desire, and now i found it. I w
as attracted to Canopus instantly when i heard the sound that it can create in recordings of some other bands. I pl
ay with it and I record with it now, its the first time i feel so connected to drums. One more thing, it does look stunning on stage. thank you Canopus!