Jonathan Joseph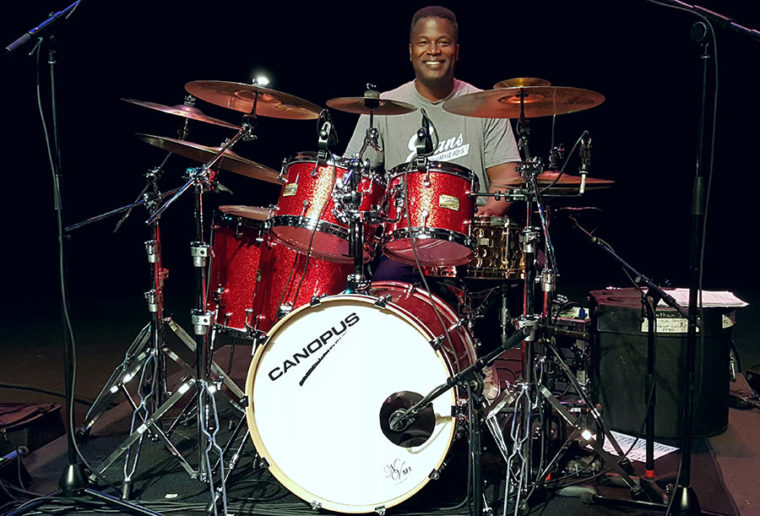 When Jeff Beck accepted an invitation from singer Joss Stone to drive down to the English coastal town of Exeter in Devon to audition Jonathan Joseph for the new band he was putting together, the legendary guitarist did not expect to find an American who subscribed to the Billy Cobham school of fusion drumming living just 'down the road' from his own home in East Sussex. Beck immediately struck up a rapport with Jonathan and since then they've been touring the world together, as the Jeff Beck Band scores rave critical reviews, sold-out concerts and major gigs including Eric Clapton's Crossroads Festival. As if to confirm the synergy between the two, the Jeff Beck Live in Tokyo 2014 DVD and Jeff Beck Live + album are reminders that creative musical daring is alive and well whenever Jeff, Jonathan and the rest of Beck's stellar band hit the stage.
Among the many other major musical heavyweights Jonathan Joseph has drummed with are Alexander O'Neal, Al Jarreau, Mike Stern, The Yellowjackets, Betty Wright, Beverly Knight, Bill Evans, David Sanborn, Josef Zawinul, Joss Stone, Pat Metheny and Randy Brecker, while playing on Ricky Martin's Livin' La Vida Loca tour served as a reminder that Joseph's diversity is one of his numerous assets.
Born October 25 1966, Jonathan started drumming in church services at the age of six, all the while gaining a solid music background through the choir director, his mother. Having such strong progressive roots in gospel meant that during his high school years he found it easy to transition into jazz.
After attending the University of Miami, Frost School of Music, Jonathan formed and directed the modem jazz band Decision. In fact, his first real break came when Decision opened for Dizzy Gillespie at the legendary trumpeter's seventieth birthday celebration. Later, while working as a freelance musician, he found himself on stage with top-flight artists including Stanley Turrentine, Monty Alexander, Lou Donaldson and Mongo Santamaria.
VIDEO