Jesse Cahill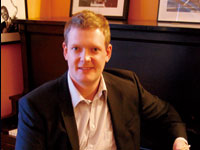 Nationality: Cabaduab
Jesse Cahill started playing drums at a young age and worked his first professional gigs at 16 in restaurants and clubs in his hometown of Victoria, British Columbia. In 1993 he moved to Montreal to study music at McGill University, graduating in 1999 with a Bache- lors Degree in Jazz Performance.
Since returning to the west coast in 1999 Jesse has become one of the busiest drummers on the Canadian music scene. He has worked with jazz legends like David "Fathead" Newman, George Coleman, Harold Mabern, Red Holloway, Dr. Eddie Henderson, Charles MacPherson and Bobby Shew. He has also performed, toured, and recorded with many internationally recognized artists such as Eric Alexander, Peter Bernstein, Vincent Her- ring, Jim Snidero, Terrell Stafford, Mike Ledonne, Pat Bianchi, Joe Magerelli, Jim Rotondi, Steve Davis, Ryan Kysor and George Colligan. He can also be seen and heard regularly with top Canadian artists including Tilden Webb, Jodi Proznick, Brad Turner, Oliver Gag- non, Phil Dwyer, P.J. Perry, Cory Weeds, Bill Coon, Ken Lister, Miles Black, Don Thomp- son and many others.
Jesse is also an in demand session player having appeared on dozens of recordings in- cluding Jodi Proznick's Juno nominated recording Foundations and Jerrold Dubyk's WCMA Album of the Year recording The Maverick. His playing can be heard regularly on CBC Radio One and Two and he has been a featured guest and performer on Jazz Beat, Hot Air, and Canada Live.
Message to CANOPUS
For a long time I have been looking for an alternative to my vintage drums and I've finally found it with Canopus. My V60 and RFM kits sound great. They are always musical and give me flexible tuning options for any situation. Thanks Canopus!