Franky Dee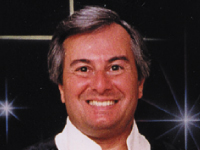 Nationality: U.S.A.
I began my music career at the age of 7 playing piano, singing and recording with the Grace Church Choir in New Jersey.
I transitioned into drums at 14. Soon after, I began playing drums full time with Sonny Ray & The Del Rays, recording sound tracks for the Beach/Surfer movies in Hollywood.
I have played with many grammy award winners including George Benson, Stevie Wonder, Ella Fitzgerald, Del Shannon and Anne Murray to name a few.
I also played many year swith The Happenings, who have had several gold records.
My new Rhythm Of Life Project is designed to help young school children learn more about music and the art of drumming.
I am also the creator of "Cymbal Sleeves" (individual cloth cymbal covers) available on my web site and, very soon, in Sam Ash Stores
My new group Ecclesia is about to release our new CD, No Matter The Cost, please check out our web site to order a pre-release!
Message to CANOPUS
I would like to thank all the people at Canopus Drums, especially Mr. Usuda, for making the finest drums in the world!
My current 9 piece kit is, beyond a doubt, the best sounding kit I have ever owned! ( I have owned over 50 kits) The unique mixture of both double headed Toms and single headed concert Toms allows a wider and more dynamic range, which helps to create a diverse tonal pallet allowing for a more expressive and lyrical music experience.

My record producer and the engineers at Atlanta's premier recording studio have nothing but the highest praise for my Canopus Drums.
They wanted to keep my kit at the studio! "They sound awesome!"

The fine craftsmen at Canopus make each drum a "work of art!"
Thank you Canopus for selecting me as one of your artist endorsers!