Eva Klesse
Eva Klesse Quartett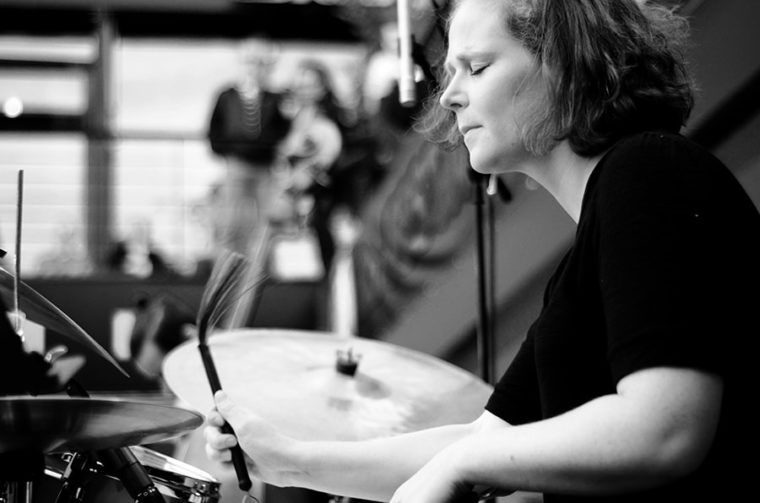 Eva Klesse, born in 1986, started playing drums at the age of eleven. She studied jazz at the colleges of music in Weimar, Paris and Leipzig, where she obtained a double diploma (artistic/pedagogical) with distinction. From 2014 to 2016 Eva completed a master's degree at the jazz department of New York University supported by a scholarship of the German Academic Exchange Service.
Eva is working in various musical projects, among others with Julia Hülsmann Oktet, Trillmann, Jorinde Jelen Band, 'No Kissing' and her own quartet, for which she is also composing.
Several concert tours led her to China, Chile, Argentina, Switzerland, Turkey, Serbia, Spain, Dominican Republic, Honduras, Nicaragua, Belgium, Guatemala, Mexico, El Salvador, France, the United States and Malaysia.
In 2013 she won the "Leipziger Jazznachwuchspreis der Marion-Ermer-Stiftung" (Leipzig award for young jazz musicians).
With her quartet she has been playing numerous concerts since its founding in 2013, among others at Berlin, Leipzig, Münster, Freiburg and Dortmund jazz festival, at 12 Points festival, ChilEuropa Festival and several live radio shows for major german radio stations. The debut album of the "Eva Klesse Quartett" ("Xenon") was released in october 2014 on enja Records and won the Jazz Echo 2015 (German Music Award) in the category "Newcomer of the year". The second album "Obenland" was released in 2016.
In 2017 Eva was awarded with the Westfalen-Jazz-Preis (Westphalia Jazz Award).
In 2018 Eva was appointed as professor of jazz drumset at Hochschule für Musik, Theater and Medien Hannover.
The next album of Eva Klesse Quartet "miniatures" will be released in october 2018.
Press quotes
– "A rising star on the German jazz scene" (LondonJazzNews)
– "the fact that this student of medicine from NRW switched to music is indeed a stroke of luck for German jazz" (Kulturspiegel)
– "Xenon is unreservedly the dream debut of an utterly fantastic band" (Rondo – Das Klassik- und Jazz-Magazin)
– "what drummer Eva Klesse and her band develop is mature, thoughtful music, played with great depth of feeling" (Audio)
– "shooting star of the European jazz scene" (NDR.de)
– "from the first to the last note a perfectly balanced product of the quartet's road to musical maturity that amazes and creates an appetite for more", "bewitching music, truly beautiful and without even the slightest hint of kitsch, a remarkable debut" (Ulrich Steinmetzger, LVZ)
– "the concept succeeds above all because of the excellent band that has in its ranks EK, probably the best soloist on the present scene" (Mitteldeutsche Zeitung)
– Only three years ago, these four young personalities joined up, now they appear as one organism. Possibly because of their very different musical backgrounds.", "Thanks to intriguing melodies and harmonies Eva Klesse quartet's jazz is appealing for different kinds of audiences and still far away from being mainstream. That takes quite a bit, doesn't it? (Norbert Krampf, Frankfurter Allgemeine Zeitung 10/2016)
– Drummer Klesse, who is from the youngest generation, has a different temperament. She is a humble and passionate musician underpinned by a good portion of challenging humor. It allows her to easily move to and fro between interior and exterior, between leading and following, between empathy and directing. It allows her to come up with extraordinary flowing drum work and distinctive dynamics of a kind -both highly captivating and enjoyable. The four musicians, Klesse, saxophonist Evgeny Ring, pianist Philip Frischkorn and bassist Robert Lucaciu are on a par with each other in the group. Mutual understanding, give and take and engagement in terms of surrendering to the music and serve the music are highly developed in the group. There's a special potential to spark the best in every musician resulting in fantastic timing and dosing. (Good) music lives by creative ways of unifying, reconciling opposites. Klesse (…) has her very own, strong way into that in her/the group's music (making). Especially subtleness and compactness are unified in a highly consistent and distinctive way. Klesse and her group also have a high degree of emergence in their music (making), another indispensable ingredient of good music. It is also called momentum and it means that the listener gets the idea that not a piece of music is played bit by bit but that the music itself is taking its route in the performance, emerge from one moment to another on its own, unfolds as if it's the first time it is happening. (Henning Bolte, allaboutjazz.com 04/2017)
– Drummer Eva Klesse and her group from Leipzig shone brightly through mysterious narratives alternating whispering airy passages with dense climaxes and suspended sudden halts. In its highly inventive playing Klesse's group (…) united subtleness and compactness in a highly consistent and distinctive way. (Henning Bolte, londonjazznews.com 2016)
VIDEO