Ernest LaRouche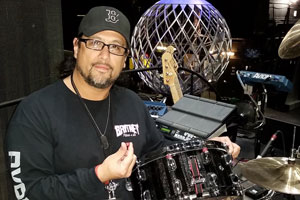 Nationality: USA
Ernest LaRouche grew up in upstate New York before moving to Boston MA to attend The Berklee School of Music where he graduated with a performance degree. While at Berklee he performed with the Berklee Percussion Ensemble under the direction of Dean Anderson for 2 years. After graduating he played percussion in an early incarnation of "Powerman 5000" from 1991 to 1992.
In1992 he became the drummer for J. Geils lead singer Peter Wolfe. He then joined the Motown band "Marsels" performing all through New England backing headlining acts such as Jeffrey Osbourne and opened for the 4 Tops at Madison Square Garden. Ernest still performs with them presently.
In 1998 he toured with "The Peasants" featuring Pete Cassani and travelled throughout the East Coast and Midwest. In 2003 he joined "Mappari" featuring singer-songwriter Will Dailey and toured throughout the East Coast again.
2003-2008 he became the drum/piano and ensemble instructor at Northeastern University. In 2008 he became a member of "World Play" with Ray Greene (Tower of Power) and Tracy Bonham opening for Roger Daltrey, Joss Stone, Darius Rucker and Goo Goo Dolls. In 2013 he became the full time drummer for Britney Spears and is currently performing her "Piece of Me" residency at Planet Hollywood in Las Vegas scheduled through 2015.
Message to CANOPUS
I was rehearsing at SIR Las Vegas prior to the Britney Spears live shows
and needed a snare I could use as a secondary snare.
They had one an amazing warm tone.
This is a snare model I've used in the past many times with a similar head combination.
I asked why this sounded so different and Joey Klaparda showed me the Canopus snare wire and ribbon on the snare.
I immediately asked to try it out on my main snare and WHAT A DIFFERENCE it made.
I then noticed that same secondary snare had Lock Tights and Red Locks on the tension rods.
Once I received samples and tried them out on several other snares, I was sold!
I have them on ALL of my snares.
Where has Canopus been all my life!.