Desi Jones
デシ・ジョーンズ
Skool Band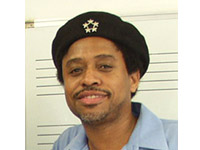 Nationality: Jamaica
Desi Jones was born in Kingston ,Jamaica on the 21st February 1959. He started playing the recorder and conga drums at the age of seven at the Institute of Jamaica.
At the age of twelve he started playing the drumset and also joined the Salvation Army brass band as a trombone player.
He became a professional musician in 1976 at the age of seventeen as drummer for the Sonny Bradshaw Seven, a top Jamaican dance band at the time.
In 1980 he became a founding member of the reggae group "CHALICE" and recorded at least seven albums of original material with the group. His book "The Art Of Reggae Drumming"the world's first instructional book on reggae drumming was released in 1983.
In 1988 he formed the band "SKOOL" which has toured extensively and recorded with top acts such as Jimmy Cliff, Barrington Levy, Mutabaruka and Marcia Griffiths and has been the house band for the Reggae Sunsplash tours of the USA and Japan for many years.
Desi Jones has also recorded and toured with Jamaican jazz pianist and guitarist Monty Alexander and Ernie Ranglin.
Message to CANOPUS
I first got to play on a Canopus snare drum while on a trip to Japan with Jamaican jazz pianist Monty Alexander. I was intrigued by the range of the snare sound which afforded me the opportunity to play jazz and reggae without changing drums.
I was pleasantly surprised to hear and see the wide range of drums shown to me by Mr.Usuda the next day while visiting the Canopus factory.I t was a pleasure for me to try out quite a few snare drums in a few hours.
On a subsequent trip to Japan with Jimmy Cliff, performing with my band "SKOOL" , Mr.Usuda provided me with a full Canopus kit for my use on that show. I was the envy of the other drummers from the other bands on the festival who commented positively on the great sounding drums that I played.
Thank you Canopus.