Charles K Goold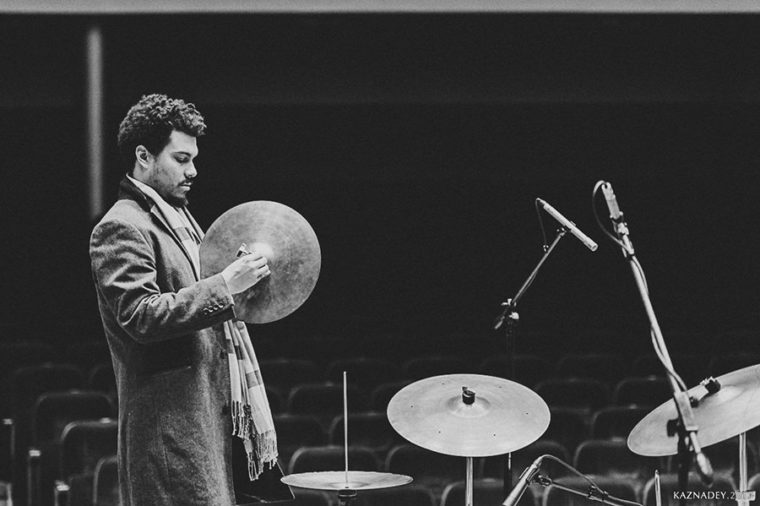 Charles Goold, is one of New York City's hardest working jazz drummers of his generation. Son of Ned Goold, legendary saxophonist whose credits include Harry Connick Jr, Jack McDuff, Vernell Fournier and many others, Charles was able to hear, live and embody jazz from the day he was born.
Goold's first opportunity to perform in public came at the age of 11 where he performed every Sunday with Roberta Flack's pianist Harry Whitaker at the world famous Arturo's Italian Restaurant. Three years later Goold started performing every week with his father Ned, at the world renown jazz club, Smalls Jazz Club, at the age of 14 years old. After a short-lived pursuance in collegiate track and field at Temple University, studying communications, Goold transferred to the Berklee College of Music where unfortunately after one semester he had to withdraw for financial reasons. Deciding not give up on his dream of becoming a jazz musician Goold moved back to New York City at the age of 19 and began playing in any musical situation possible.
Finding success after 6 years of hard work through teaching and performing, Goold auditioned and received a full scholarship, subsequently graduating from the Juilliard School.
With this precious knowledge and experience handed down from his elders and pursuance of formal education, Goold has been able to perform with of the best in the jazz industry and wide variety of acts from classic stalwarts like John Hendricks, The Cab Calloway Orchestra and Andy Bey to more contemporary acts like Wynton Marsalis and the Jazz at Lincoln Center Orchestra, Johnny O'Neal, Steve Nelson, Chris Washburne's "Rags and Roots" and a concert with Tony Bennet, Ne-Yo, Savion Glover and Brandon Flowers of the Killers at the 2015 Tribeca Film Festival. He has also collaborated with rap legends Cam'Ron, Talib Kweli and Ghostface Killah, recorded with singer/songwriter Eric Hutchinson and has even performed on the Off-Broadway Musical "Old Hats", starring legendary "clowns" Bill Irwin and David Shriner.
Through Jazz at Lincoln Center's "Jazz for Young People Program", Goold has gotten to reach hundreds of public school students across New York's 5 boroughs teaching the history and valuable lessons Jazz has to offer.
In an effort to give back to his mother's native land of Haiti, Goold volunteers every year with the non for profit group "Experience Ayiti", an organization which brings Haitian-American and New York City musicians down to the island to dispel negative stereotypes about Haitian culture and to give back to the community, through food drives, master classes and concerts.
Goold has also debuted a new project featuring his original compositions that document his unique experience in New York City, mixing the influences of Hard-Bop, New Orleans, Hip-Hop, and the Carribbean in his group, NuBopCity.
VIDEO