Christoph Freier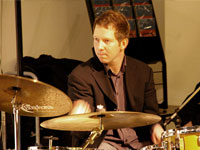 Nationality: Germany
Born in 1973 in Cologne, i studied Jazz Drums at the Folkwang University of music in Essen. My Teachers there were Thomas Alkier (former drummer of the Michel Petrucciani-Trio) and Sperie Karas (former drummer of the Grammy-winning Cologne Radio Big Band/WDR).
I also had private lessons and masterclasses with Christoph Hillmann and Drori Mondlak (New York City) and Richie Beirach. I am an active drummer in different styles of Music such as Jazz, Rock, Pop and Soul. I also play in musical-productions ("Chicago","Saturday Night Fever") and klassical orchestras. I work not only as a studio drummer but also as a sidemann in TV- and Radio-Shows.
Performences with: Stephan Becker Trio, Sven Bergmann Trio, Greencard (Brazil Tour 2006), Orchestra Markus Quodt, Charlie Kemmerling Orchestra, Theatres in Duesseldorf and in Cologne, Europe Tour with "Jesus Christ Super Star", Germany Tour (1999/2000/2001) with "Dance of the World", Martin Gjakonowski, Sonja M & Band, Rene Kroemer, Susanne Schneider, Volker Engelbert, Till Brandt………………
I teach in different music schools in Cologne and in my hometown Huerth, in the area of Cologne. I also hold workshops and give private lessons.
Message to CANOPUS
A company with vision that faces the future and respects the past great traditions of drum making. Canopus drums are beautifully crafted, have a deep, rich, and dynamic sound, and are made with amazing attention to detail. They come up to my ideal of drum sound!!!! Thank you for making such great instruments! I love it!